WHY Microdose?
Because not everyone is ready for or wants to have a large dose of psychedelics. The experience lasts a long time and isn't something you can do while functioning within your everyday business. Plus, the experience can be difficult to integrate into normal life without extra support and guidance.
A small dose, aka a micro-dose, is sub-perceptual, which means the dosage is so small that it doesn't disrupt the way you function. It is gentle and with the proper dosage, there are no feelings of a psychedelic trip. In fact, if you feel like you're tripping, then you are not microdosing.
With microdosing, you can slowly experience the benefits of psychedelic medicines to support your daily life, growing in curiosity, clarity, and creativity.
Classical psychedelics mimic a serotonin receptor called the 5HTR2A. While most of the research has been on high-dose experiences, there is growing evidence that microdosing creates many of the same physiological and psychological benefits as large doses. Some of the benefits are neural plasticity, more neural signaling across the brain networks, and reduced activity in the default mode network (DMN) of our brains. The DMN is loosely connected structures in the brain that communicate with each other to help us function in the world. Activity in the DMN is linked to mental processes like self-awareness, empathy, and thinking about the past or future. While baseline levels of DMN activity are totally normal, an overactive DMN often translates into negative thought loops, replaying memories, or listening to the little voice in our heads—it's the biological basis for limiting beliefs, being in a rut, and "inside the box" thinking. The results of microdosing assist in seeing more possibilities, having more motivation, and creating new habits.
Microdosing (or any psychedelics) is like a tool to support transformation, much the way going to a therapist isn't necessary to grow, but certainly can help facilitate and expedite change. They are supportive substances (like a supplement, nootropic, or even medicine) that can create greater overall functioning. And they're safe. A 2010 study from the UK measured the harmful impact of many substances on both the individual and how it creates harm to others. The results were that psilocybin and LSD were the least harmful substances and alcohol was the most harmful.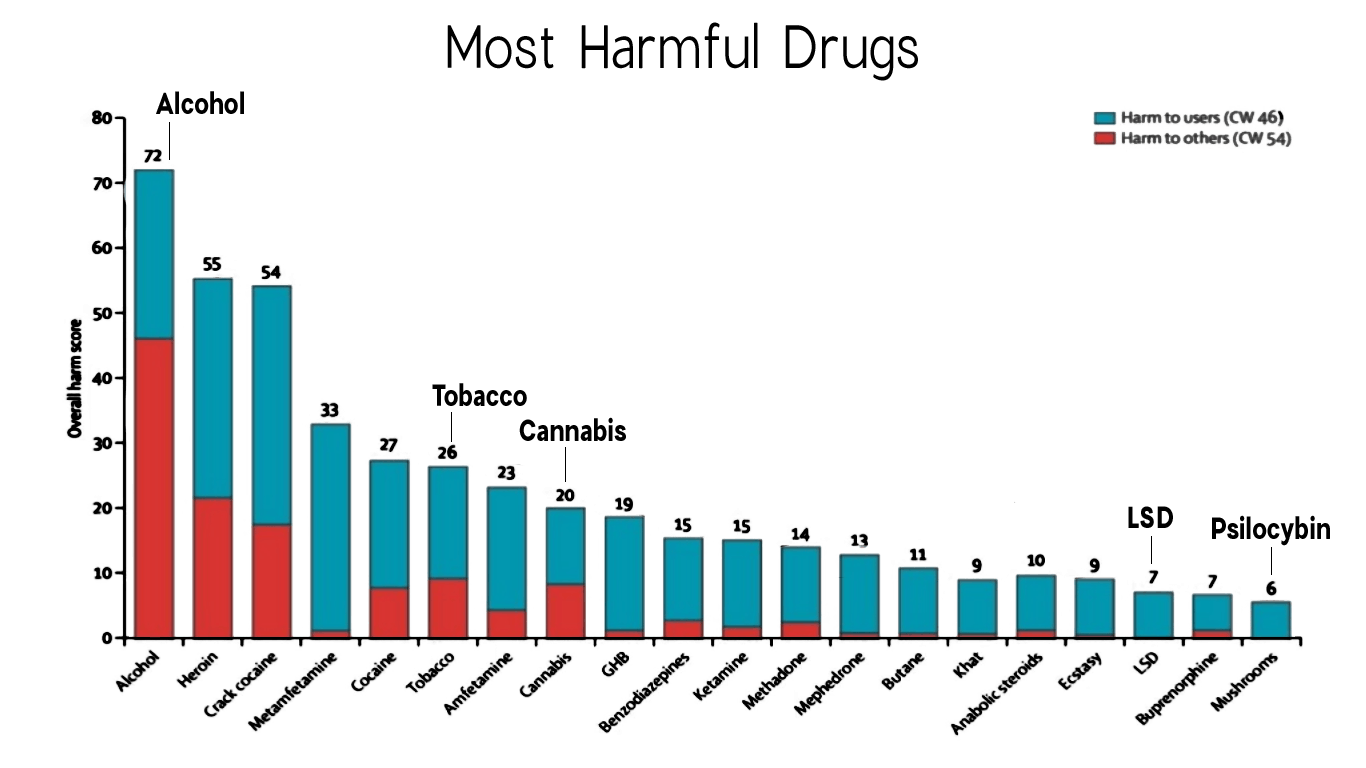 "Microdosing isn't actually about the medicine, it's about the invitation to show up and make contact with the present moment. Microdosing becomes an invitation to deepen into an intentional daily practice." — Laura Dawn